Eveliza: Nutrient concentrate for the recovery of food-conditioned illnesses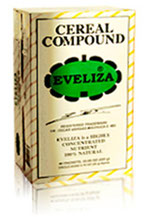 The roughage-containing and albuminous food supplement means for the treatment of nutrient-conditioned Illnesses (800 g of package)
Ingredients: Wheat germs, wheat bran, Quinoa, brown and red seaweed essence
Range of application: Eveliza should be taken if the organism shows signs of decay (illness treatment by optimised nutrient balance in the cell system). In comparison to Alen, Eveliza owns a still stronger active strength in natural, biological substances.

Product description:
- Eveliza exists of grain, vegetables and seaweeds.
- The nutrients are won in an intact and fertile natual environment rich in the
  Andes and the Galapagos Islands.
- They show extremely high nutritional values and energy values.
- A unique nutrient spectrum from 20 minerals, 20 vitamins and 18 amino acids.
- Biological production (control after German standards). 
Food analysis:
Vitamins: B1, B2, B6, B9, B12; C, D2, E, K,
Minerals: Calcium, potassium, iron, magnesium, manganese, sodium, phospor, silicon, zinc a.o.m.
Amino acids (17): Alanin, arganin, aspartic acid, cholin, glutamine acid, glycine, histidine, inosit, isoleucine, leucine, methionine, phenylalanine, proline, serin, thyrosin, tryptophane, valine.
Use recommendation: In the morning and in the evening stir a little bag (20g) into quiet water or juice and drink it immediately.
Result: Particularly suitably for diet cure and fasting cure; balance of a serious untercare with nutrients